Should Scooter Libby's Sentencing Letters Be Made Public?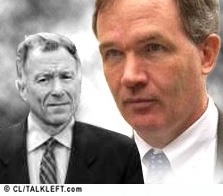 Marcy (Empty Wheel) argues that the sentencing letters written on behalf of Scooter Libby should be made available to the public.
Team Libby disagrees (brief here), asserting that the letters are not judicial records because they haven't been filed with the Court (they were submitted in camera through the Probation Department) and aren't subject to the First Amendment, and because the privacy interests of the authors outweigh the interest of the public's right to know. Also, Libby argues, since courts have discouraged or prohibited the disclosure of such letters in the past, a change in this case might have a chilling effect and deter supporters of defendants in future cases from writing candid letters of support.
Team Libby is particularly concerned about bloggers:
Given the extraordinary media scrutiny here, if any case presents the possibility that these letters, once released, would be published on the internet and their authors discussed, even mocked, by bloggers, it is this case.
More...