Bill Richardson Opposes Compromise Immigration Bill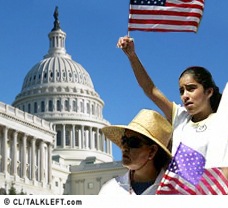 Credit where credit is due, and today it goes to New Mexico Governor and presidential hopeful Bill Richardson, who says he will oppose the Immigration compromise because it is too onerous for immigrants:
Mr. Richardson initially said he would support the immigration compromise announced earlier this week. But on Wednesday, he said that after reading it in detail, he had decided to oppose it, saying the measure placed too great a burden on immigrants — tearing apart families that wanted to settle in the United States, creating a permanent tier of second-class immigrant workers and financing a border fence that Mr. Richardson had long opposed.

"This is fundamentally flawed in its current form, and I would oppose it," he said. "We need bipartisanship, but we also need legislation that is compassionate. I'm not sure that this is."
Thank you, Governor Richardson.
More....
Gov. Richardson's decision hopefully will have a rippling effect.
He is the first major Democrat to call explicitly for defeat of the bill in its current form, a decision that he said would no doubt echo across the presidential playing field and in Washington. And his is a voice that carries particular weight: he grew up in Mexico, but went on to became a state governor who once declared a state of emergency in response to turmoil and violence on the border caused by illegal immigrants.
As for who's the latest to defend the bill? Trent Lott.