Don Imus Apologizes Again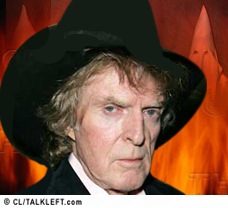 Embattled radio host Don Imus spent almost an hour of his show this morning (transcript here) apologizing again for his racist comments about the Rutgers women's basketball team.
As I facetiously suggested here, he's on the road to rehab. He's going to be on the Al Sharpton radio show this afternoon and meet with the Rutgers team.
Imus said he hoped to meet the Rutgers players and their parents and coaches, and he said he was grateful that he was scheduled to appear later Monday on a radio show hosted by the Rev. Al Sharpton, who has called for Imus to be fired over the remarks.

"It's not going to be easy, but I'm not looking for it to be easy," Imus said.
Update: Prior post here.
Crooks and Liars has the Imus-Sharpton audiofile.