Sopranos Final Season: "Home Movies" Tonight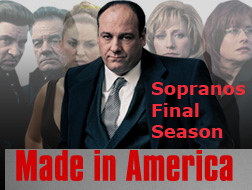 Finally, the Sopranos are back. The final season, Made in America, begins tonight on HBO with Episode 78, "Home Movies." Like last year, I will be putting up a thread every Sunday night to discuss the show. Predictions, analysis, reactions, all Soprano topics are welcome.
If you get Comcast On Demand, it appears that HBO is free this weekend, including the Sopranos past episodes and tonight's new one.
The only thing I can glean from the news coverage is that not all of the story lines will be resolved by the end.
Update: Some hints here from an exclusive interview with Tony and his son.
Update: Spoiler Alert: Here's a recap for those who missed it.