N.C. Attorney General Releases Duke Lacrosse Findings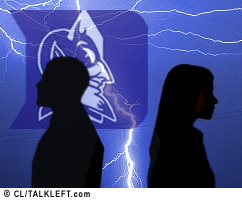 When the North Carolina Attorney General declared the three charged Duke Lacrosse players innocent of sexual assault and stated there was no credible evidence to support that any attack had taken place that night, he promised he would be releasing a report.
The report was released today. You can read it here (pdf).
His findings:
The accusing witness's testimony regarding the alleged assault would have been contradicted by other evidence in the case from numerous sources;

The accusing witness's testimony regarding the alleged assault and the events leading up to and following the allegations would have been contradicted by significantly different versions of events she told over the past year;

No testimony or physical evidence would have corroborated her testimony;

The accused individuals were identified through questionable photographic procedures;
More...
Credible and verifiable evidence demonstrated that the accused individuals could not have participated in an attack during the time it was alleged to have occurred;

The accusing witness's credibility would have been suspect based on previous encounters with law enforcement, her medical history and inconsistencies within her statements.
As to what drugs she was taking,
Video evidence from when she left the party shows her unable to walk and in the audio, professing to be a cop, the report said.

Special prosecutors witnessed a similar behavior when meeting with Mangum on April 4, 2007, during the time she acknowledged having taken multiple prescription drugs: Paxil and amitriptyline, which are used to treat depression, Ambien, a drug relaxer, and methadone, a detox treatment for narcotic addiction.
What a hoax this case was. DA Mike Nifong does not deserve to keep his job. Among the problems he's facing:
Nifong is accused of violating rules of professional conduct when speaking to reporters early in the investigation. The State Bar complaint was amended weeks later and accused him of withholding exculpatory evidence and lying to attorneys and the judge. He goes to trial June 12, and if found guilty, could be disbarred.
I suspect civil lawsuits against him are just around the corner.