Sopranos Final Season: "Remember When"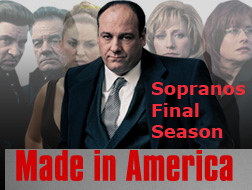 Episode 80 is tonight: "Remember When."
This week, with the heat turned up in Jersey, Tony and Paulie head south to cool off. Meanwhile, Junior rekindles some of his old fire in a poker game.
I'm wondering if someone will be killed tonight. Three weeks without a whacking is a long time.
After the Sopranos is the final episode of Apprentice: LA. Donald Trump chooses his apprentice tonight. My money's on Frank. This was definitely not a great season for the show, I usually tuned in to the last 15 minutes to see the boardroom action and who got fired, but the finales are fun to watch because they are live and the contestants presumably don't know who will be chosen.
Update: Trump chose Stephanie, a very L.A. civil lawyer who defends construction companies against defect claims and employers against workman comp claims. She was a mouse the whole season, but she showed her mettle tonight. A fitting choice for Trump.
If you watch and have some thoughts, here's the place to leave them.
Update: Ann Althouse and her commenters review the Soprano's episode. I agree with one of the commenters who said it seems like the show is going to go out with a whimper, not a bang.