Charges Dropped Against Marine in Haditha Murder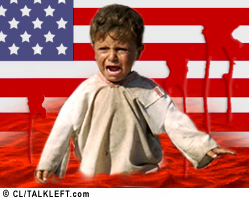 Charges against one of the Marines in the Haditha killings have been dropped, but it's not because he wasn't involved.
Sgt. Sanick Dela Cruz, 24, had been charged with premeditated murder and making a false report in the November 19, 2005, deaths, which damaged U.S. prestige and led to international condemnation.

``Charges against him were dismissed on April 2 after the government balanced his low level of culpability in the alleged crime against the potential value of his testimony,'' a Marine Corps statement said.
Two dozen Iraqi men, women and children were killed in this raid.
Three Marines remain charged with murder and four others are charged with dereliction of duty for failing to properly report and investigate the shooting deaths of the two dozen Iraqi men, women and children.
Was this deal really necessary? Why not make Dela Cruz plead to the dereliction of duty count? Why reward him with a complete dismissal? How trustworthy will his testimony be?
TalkLeft's prior coverage of the Haditha killings is accessible here.