Sopranos Final Season: "Stage Five"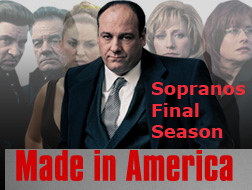 Episode 79 is tonight:
"Stage Five".


This week, Tony finds art imitating life at the Cleaver premiere; in prison, Johnny Sack copes with more bad news. Watch Episode 79: "Stage 5" Sunday at 9PM.
Geraldo Rivera has a cameo.
Update: What a great episode. If you missed it, watch the rerun later this week.