"60 Minutes" Examines Duke Lacrosse Case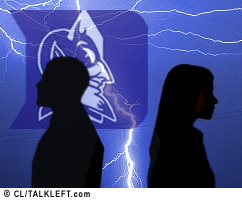 The three innocent Duke Lacrosse players and North Carolina Attorney General Roy Cooper appeared on "60 Minutes" tonight. Coper explained how the many stories of the accuser in the Duke lacrosse players alleged sex assault case fell apart.
DA Mike Nifong's actions were so inexcusable. As for his apology the day after the players' exoneration, it's too little too late.
As player Dave Evans said, "Rape will always be associated with my name." He'll always be known as one of the charged players.
At least, thanks to Roy Cooper, it will be followed by "he was innocent."
Now its time for Nifong to take his lumps -- either in the disciplinary hearings or in civil lawsuits by the players or both.