Duke Lacrosse Defendants Cleared: They are Declared Innocent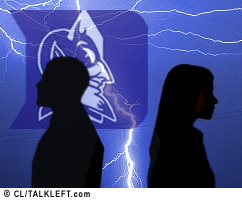 The North Carolina Attorney General's office is making its announcement on the outcome of its investigation into the Duke lacrosse players alleged sex assault case.
You can watch live here.
I'll be live-blogging.
What reason will they give? Will it be lack of evidence to support the charges, a conclusion that the accuser was lying, or that the accuser has asked them not to proceed (a la Kobe Bryant)? Or something else?
I hope they say more than "after conducting through interviews of all involved and the witnesses, we have concluded that we are not likely to prove the case beyond a reasonable doubt."
In other words, will they have the guts to exculpate the players or will they hide behind the "not provable" scenario? (Update: Yes they do, Kudos to the AG's office.)
Ok, live-blogging below the fold.