Rudy Out of Touch With Basics of Daily Life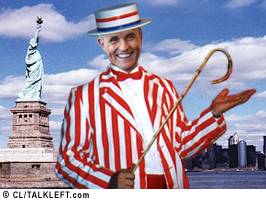 Via DavidNYC at Daily Kos: How out of touch is Rudy Giuliani? He doesn't even know the cost of a gallon of milk or a loaf of bread.
"A gallon of milk is probably about a $1.50, a loaf of bread about a $1.25, $1.30," he said.

A check of the Web site for D'Agostino supermarket on Manhattan's Upper East Side showed a gallon of milk priced at $4.19 and a loaf of white bread at $2.99 to $3.39. In Montgomery, Ala., a gallon of milk goes for about $3.39 and bread is about $2.
On Don Imus, Rudy says he'll still go on his program.
"I would appear on his program again, sure. I take him at his word," Giuliani said.
On the confederate flag,
Asked about the flying of the Confederate flag in some Southern states, Giuliani said, "That's a good "That's a good thing to be left on a state-by-state basis."
That's kind of like his revised abortion stance, it should be left up to the states. Will he take the same position on medical marijuana, and if elected, tell the Department of Justice not to raid co-ops or bust medical users in states that have legalized medical pot? I bet not. States' rights for some but not for all, right Rudy?