Decision Likely in Duke Lacrosse Case Tomorrow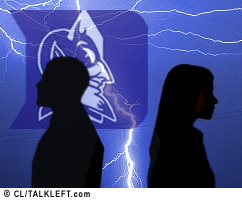 Tomorrow appears to be the day the North Carolina Attorney General's office will announce its decision on whether to drop or proceed with sexual assault charges against the three former Duke lacrosse players.
Smart money says the case will be dismissed. Two of the defendants, Reade Seligman and Colin Finnerty traveled to Durham today, and the press is swarming around.
Question: If the charges are dropped because of lack of evidence or because the accuser won't cooperate, what should be the remedy for the boys? Their lives -- and that of their families -- have been turned upside down and into a hell for the past year. Their schooling has been interrupted, their reputations trashed.
Duke's reputation has taken a hit. The lacrosse team season was cancelled. Unpleasant racial issues surfaced.
I put much of the blame for this travesty of a case on D.A. Mike Nifong. If he hadn't glommed on to the media and made outrageously inappropriate comments in the beginning, jumping to the support of the accuser before the facts were in, much of the damage could have been avoided.
I think the State Bar will hold him accountable, but it still can't undo the damage.
Update: I'll be live-blogging the AG's press conference in a new thread. Or, you can watch it on your computer's here.