Scooter Libby's Sentencing Guidelines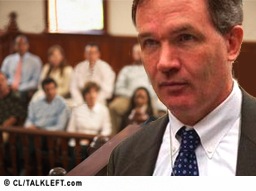 Now that Scooter Libby has been convicted of four of five counts, what sentence is he likely to receive?
First off, for non-lawyers, the 25 years you hear about are not what he will get. They are the maximum sentence authorized by statute. The maximum sentence for obstruction is 10 years; false statements and perjury, 5 years.
In reality, sentences are based on the U.S. Sentencing Guidelines. Until a few years ago when the Supreme Court decided Booker v. United States (argued in the Supreme Court by TalkLeft blogger TChris), the guidelines were mandatory. Now, they are given serious consideration or even great weight, but they are not binding and the Court must consider the factors in 18 U.S.C. 3553(a). That could result in a lower sentence for Libby -- or not.
On to the Guidelines, below the fold:
Analysis from:
Here are the applicable guidelines.
The guideline for Obstruction of Justice is here. The base level is 14, but 3 points can be added "If the offense resulted in substantial interference with the administration of justice."
The Perjury guideline is here. It also is a level 14 but "If the perjury, subornation of perjury, or witness bribery resulted in substantial interference with the administration of justice, increase by 3 levels."
"Substantial interference with the administration of justice" includes a premature or improper termination of a felony investigation; an indictment, verdict, or any judicial determination based upon perjury, false testimony, or other false evidence; or the unnecessary expenditure of substantial governmental or court resources.
The False Statement guideline is here.
The guideline enhancement for Abuse of Special Trust, which may or may not apply, is here.
If the defendant abused a position of public or private trust, or used a special skill, in a manner that significantly facilitated the commission or concealment of the offense, increase by 2 levels.
After calculating the guidelines for each offense, the grouping rules have to be considered because he was convicted of more than one count.
There are also various downward departures, but I don't see any of those being applicable. Nor do I see Libby getting any credit for "acceptance of responsibility."
After the final offense level is computed, it's cross-referenced with criminal history category, which if Libby has no prior convictions, will be I. Then you go to this chart and find the sentencing range.
My preliminary estimate: I think the lowest his guidelines will be is the 15 to 21 month range and the highest would be the 24 to 33 month range.
Because he was a high level government official and a lawyer who obstructed justice, I would expect the judge to sentence him towards the high end of the applicable sentencing range, particularly if enhancements aren't applied.