Libby Judge Responds to Jury's Questions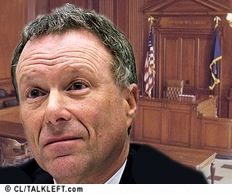 The Judge in the Scooter Libby trial today provided this written response (pdf)to the questions the jury asked Friday about reasonable doubt and Matthew Cooper and the obstruction of justice charge.
The first question read:
We would like clarification of the term "reasonable doubt." Specifically, is it necessary for the Government to present evidence that it is not humanly possible for someone not to recall an event in order to find guilt beyond a reasonable doubt.
Shorter version: Dear Jury, re-read the reasonable doubt instruction, and if you still have a problem, clarify what you mean by "humanly possible." On Matthew Cooper, you can consider all the evidence presented at trial, including all of Libby's grand jury testimony.
Marcy at Firedoglake ( here and here and most recently here)live-blogged the court hearing over how to respond to the jury.
Update: Text version of response below the fold: