PurgeGate: Just Misteps or Were Crimes Committed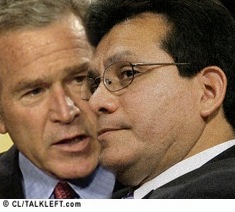 As Sen. Patrick Leahy promises subpoenas to testify will issue Thursday to Karl Rove, Harriet Miers and others, Adam Cohen of the New York Times posits that criminal laws may have been broken.
"I do not believe in this 'We'll have a private briefing for you where we'll tell you everything,' and they don't," Mr. Leahy said on "This Week" on ABC, adding: "I want testimony under oath. I am sick and tired of getting half-truths on this."
Cohen consulted with Congressional staff and law professor Stephen Gillers and comes up with this list of possible crimes:
Misrepresentation to Congress: 18

U.S.C.

1505
Calling Prosecutors: 18

U.S.C.

1512©
Witness Tampering: 18

U.S.C.

1512(b)
Firing the Attorneys: 18

U.S.C.

1512©
More...