Leahy to Subpoena Karl Rove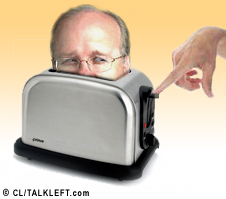 Sen. Patrick Leahy was on CNN's The Situation Room. Speaking of Karl Rove, he said (no link, received from show by e-mail):
BLITZER

: The White House counsel, Fred Fielding, was up on the Hill today. I don't know if you had a chance to meet with him. But he's not necessarily ruling out allowing some White House staffers, maybe even Karl Rove to come and testify. Do you want Karl Rove to testify before your panel?

LEAHY: I've never met Mr. Fielding. Frankly, I don't care whether he says he's going to allow people or not. We'll subpoena the people we want. If they want to defy the subpoena, then you get into a stonewall situation I suspect they don't want to have.

BLITZER: Will you subpoena Karl Rove?

LEAHY: Yes. He can appear voluntarily if he wants. If he doesn't, I will subpoena him. The attorney general said, Well, there are some staff people or lower level people -- I'm not sure whether I want to allow them to testify or not. I said, Frankly, Mr. Attorney General, it's not your decision. It's mine and the committee's. We will have subpoenas. I would hope that they wouldn't try to stonewall subpoenas.
More...