Leahy to Subpoena Karl Rove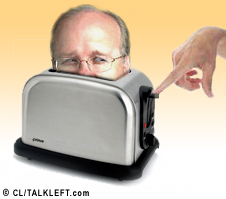 Sen. Patrick Leahy was on CNN's The Situation Room. Speaking of Karl Rove, he said (no link, received from show by e-mail):
BLITZER

: The White House counsel, Fred Fielding, was up on the Hill today. I don't know if you had a chance to meet with him. But he's not necessarily ruling out allowing some White House staffers, maybe even Karl Rove to come and testify. Do you want Karl Rove to testify before your panel?

LEAHY: I've never met Mr. Fielding. Frankly, I don't care whether he says he's going to allow people or not. We'll subpoena the people we want. If they want to defy the subpoena, then you get into a stonewall situation I suspect they don't want to have.

BLITZER: Will you subpoena Karl Rove?

LEAHY: Yes. He can appear voluntarily if he wants. If he doesn't, I will subpoena him. The attorney general said, Well, there are some staff people or lower level people -- I'm not sure whether I want to allow them to testify or not. I said, Frankly, Mr. Attorney General, it's not your decision. It's mine and the committee's. We will have subpoenas. I would hope that they wouldn't try to stonewall subpoenas.
More...
On Alberto Gonzalez and deputy attorney general, Paul McNulty:
LEAHY: I believe that they misled my committee; whether it was deliberate or not is what we are going to have to find out. We're finding more and more e-mail traffic with the White House, we're finding more and more evidence of political manipulation of prosecutors.

I told the attorney general, yesterday, I was furious about it. I wanted to find out exactly what happened…

BLITZER: Do you think someone committed perjury?

LEAHY: We'll find that out. That's a -- not always the easiest thing to prove. But we can certainly prove that we have not gotten complete answers. There's a lot more. I think the American public deserves to have answers on this, instead of every day a little bit more dribbling out. Let's get all the facts, but let's have it under oath.

It's interesting, sometimes, when people are sworn in. It focuses their attention a little bit more.
Update: The Chicago Tribune reports that Sen. Peter Fitzgerald said thar Rove pressured him in 2001 to recommend U.S. Attorney from inside the state of Illinois. He took it as a sign Rove and the White House didn't want someone who would attack corruption inside Illiniois. Fitzgerald didn't listen and nominated Patrick Fitzgerald from New York (no relation).