Live-Blogging Alberto Gonzales' Press Conference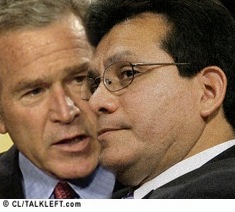 Update: The transcript of the press conference is here.
*****
Live-Blogging Attorney General Alberto Gonzales''s News Conference on the U.S. Attorney firings. Scroll down for updates. Also check out TRex at Firedoglake.
Shorter version: I'm responsible and accountable but I'm staying on the job and will find out what happened.
2:15 p.m. Things he believes in:
The independence of the U.S. Attorneys. The AG and all all U.S. Attorneys serve at the pleasure of the president. He believes in the role of the Senate in the confirmation process He believes in accountability. He is responsible. He accepts responsibility. He acknowledges mistakes here and will find out what went wrong.
He's overcome a lot of obstacles to become AG. He's not going to give up. He's committed to doing his job and that is what he intends to do here.
More...