Grand Juror in Duke Case Expresses Second Thoughts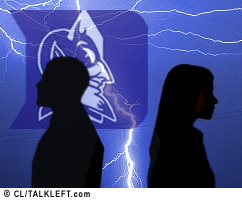 One of the grand jurors in the Duke Lacrosse players' alleged sexual assault case says he now has second thoughts. Two of the grand jurors appeared on Good Morning America. They couldn't discuss what happened in the grand jury, so they talked only about their impressions since.
"Knowing what I know now and all that's been broadcast on the news and in media, I think I would have definitely … made a different decision," he said to ABC News.

"I don't think I could have made a decision to go forward with the charges that were put before us. I don't think those charges would have been the proper charges, based on what I know now," he said.
The second grand juror disagreed.
"I don't know for sure whether she was raped, you know, because of everything that … came out," he said. "I'm not sure, to tell you the truth."