Judge Allows Release of Libby's Grand Jury Testimony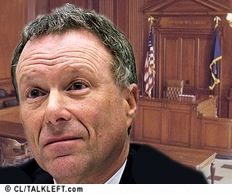 Following legal arguments this morning in the Scooter Libby trial, the Judge ruled Libby's seven hours of grand jury testimony that will be played to the jury can be released to the media. Thanks to Swopa, who is live-blogging the trial for Firedoglake and Maine Web Report which is live-blogging for Media Bloggers Association for today's trial updates.
The Washington Post reports on the arguments and ruling here.
He's also admitting the two newspaper articles from the Washington Post to show Libby's state of mind.
Update: Wells scores one on cross: FBI Agent Deborah Bond's notes do not match her testimony about what Libby said about Ari Fleischer. He did not "adamantly" deny telling him about Valerie Plame's employment. She admits that denial is not in her notes and she should have used a different word than "adamently."