Democrats and the West in 2008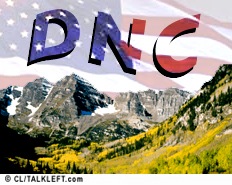 Patrick Doyle of Denver's premier monthly magazine 5280 takes a long look at what holding the Democratic convention in the Denver means for Democrats winning the West in 2008. It's good news.
By holding their convention in Denver, they've signaled to the country that they're marching, knees high, into the West. It's a bold move, and it's long overdue: The last time the Dems held a convention in Denver was 1908, and it's been 80 years since they held a convention west of Chicago or east of California. Over the next six pages, we'll look at what the West means to the political left.
Among the Topics: