Oscars Open Thread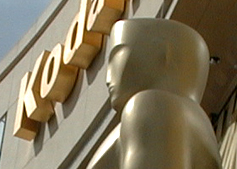 If you're watching the Oscars, let us know what you think.
From the red carpet: Al Gore was funny -- saying his favorite singer was William Hung.
Nicole Kidman's dress is elegant but a miss (unusual for her) with one of those huge bows off one shoulder. Meryl Streep looks matronly once again.
I'm not a huge Celine Dion fan, but she looks great from the front. (From the side, it's not quite so great.) So does Gwynyth Paltrow, Rachel Weisz (changed my mind on them), Jada Pinkett, and Cate Blanchett.
Cameron Diaz, Reese Witherspoon and Beyonce are stunning. I wasn't crazy about Penelope Cruz' dress or hairstyle -- way too severe and her ears stick out. The bottom half of her dress is all feathers.
Rinko Kikuchi from Babel looked so much more grown up and really pretty.
Best dressed guy so far: Leonardo di Caprio. Jack Nicholson has a shaved head. (Update: It's for a part he's now filming.)
I'll be live blogging on and off, please join in.
Updates below the fold: