Fitz Closing in Libby: Cheney is Under a Cloud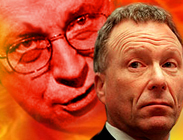 Jason Leopold has reviewed Patrick Fitzgerald's closing argument in the Scooter Libby trial, and points out these comments:
Rebutting the defense's assertion that Cheney was not behind the leak, Fitzgerald told jurors, "You know what? [Wells] said something here that we're trying to put a cloud on the vice president. We'll talk straight. There is a cloud over the vice president. He sent Libby off to [meet with former New York Times reporter] Judith Miller at the St. Regis Hotel. At that meeting, the two hour meeting, the defendant talked about the wife [Plame]. We didn't put that cloud there. That cloud remains because the defendant obstructed justice and lied about what happened."
More...