Libby Trial: The Media as Pawns or Knights?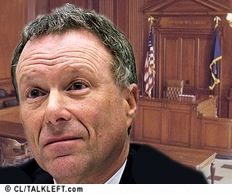 Arianna wrote a few days ago that there are two trials going on in the Prettyman courthouse in D.C. One is designed to determine whether Scooter Libby is guilty of making false statements to federal investigators, lying to the grand jury and obstructing justice. The other is a referendum on the symbiotic relationship between prominent journalists and high ranking Administration officials.
The currency in Washington has always been information. That's nothing new. But the Libby trial has laid bare, for anyone caring enough to take a look, how the Administration used the press to present its unfounded case for war.
The directive to combat Joseph Wilson's July 6 op-ed came from Cheney himself. To get a sense of how Libby and others snapped to attention when he cried "fetch," consider the July 12th flight to Norfolk. It was on this flight, carrying Cheney, Libby and Cheney press aide Cathie Martin to the commemoration of the U.S.S. Ronald Reagan, that Cheney gave his directive as if he were Tony Soprano: Go after this guy Wilson. So seriously did Libby and Martin take the command that they started roto-dialing reporters from Andrews Air Force Base the moment the plane returned from Norfolk.