Libby Trial: Live-Blogging at HuffPo Today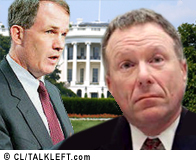 I'm over at Huffington Post live-blogging the Libby trial today. Come on over. For the blow by blow, check out Marcy Wheeler at Firedoglake.
This morning has been taken up with determining Andrea Mitchell won't testify, the NY Times' Jill Abramson had no recollection of Judy Miller suggesting she assign someone to cover the Joseph Wilson/Niger story and Cheney NSA Advisor John Hannah testifying how busy Libby was with heavy national security issues.