Destruction of CIA Tapes Could Threaten Prosecutions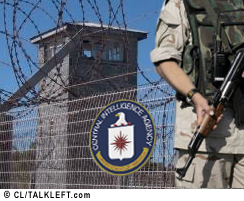 The CIA's destruction of hundreds of hours of videotapes of detainee interrogations could put several prosecutions at risk.
Officials acknowledged on Friday that the destruction of evidence like videotaped interrogations could raise questions about whether the Central Intelligence Agency was seeking to hide evidence of coercion. A review of records in military tribunals indicates that five lower-level detainees at Guantánamo were initially charged with offenses based on information that was provided by or related to Mr. [Abu]Zubaydah. Lawyers for these detainees could argue that they needed the tapes to determine what, if anything, Mr. Zubaydah had said about them.
Think: Khalid Sheik Mohammed and Ramzi Binalshibh. I'm wondering whether it could also result in reversals of the convictions of Zacarias Moussaoui and Jose Padilla.
The known detainees whose interrogation videos were destroyed are Abu Zubaydah and Abd al-Rahim al-Nashiri. Undoubtedly, more will come to light as the investigation proceeds. I won't be surprised if interrogation tapes of Khalid Sheikh Mohammed and Ramzi Binalshibh were also destroyed. In that case, they might be deprived not only of potentially exculapatory information by Zubayah but of their own statements for use at their upcoming military commission trials.
More...