The Two Giulianis: Vanity Fair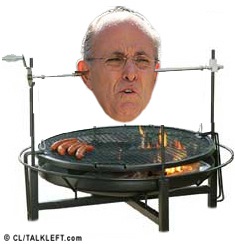 Vanity Fair has an advance copy of an article about Rudy Giuliani from its January issue, A Tale of Two Giulianis. It's about his shady connections and troubling client list at Giuliani Partners. The intro:
On the back of 9/11, Rudy Giuliani refashioned himself as a national hero, a top presidential candidate—and, through his consulting firm, Giuliani Partners, became a very wealthy man. But the questionable backgrounds of some of the firm's clients make one wonder what Rudy wouldn't do to make a buck. As Giuliani's former crony Bernard Kerik faces trial, the author uncovers troubling signs of greed, poor judgment, and conflict of interest.
I'm looking forward to reading the whole thing.