NY Times Blasts Repubublican Candidates Over Immigration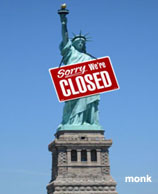 A New York Times editorial today sharply criticizes the Republican candidates for President over immigration. It also calls on the Demoratic candidates to speak out more forcefully for sane and workable immigration reform.
The problem is that the country cannot build a fence or send troops and expect its problems to go away. Huge numbers of illegal immigrants never go anywhere near the border: about 40 percent enter legally and overstay their visas. Nor can the government purge workplaces of illegal workers without doing vast damage to the economy. At some point it must address the 12 million undocumented, who cannot be deported en masse.
The Times frames the questions both sides need to answer: [More....]