FISA Bill Consideration Postponed Until January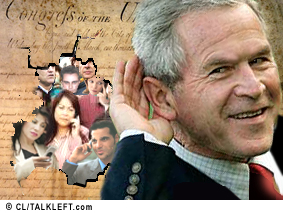 Sen. Harry Reid pulled the FISA bill today saying there were too many amendments to consider before the Christmas recess.
Senator Christopher J. Dodd, the Connecticut Democrat and presidential candidate, spent much of the day attacking the idea of giving immunity to the phone companies, and he took credit for the delay.

"Today we have scored a victory for American civil liberties and sent a message to President Bush that we will not tolerate his abuse of power and veil of secrecy," Mr. Dodd said in a statement.

"The president should not be above the rule of law, nor should the telecom companies who supported his quest to spy on American citizens," he said. "I thank all my colleagues who joined me in fighting and winning a stay in the rush to grant retroactive immunity to the telecommunications companies who may have violated the privacy rights of millions of Americans."
The ACLU calls today's action "a clear win for civil libertarians."
"The ACLU wants to thank Senator Dodd and all of the senators who joined the effort to protect civil liberties. Senator Dodd was joined by nine other senators who voted in a midday procedural vote and 15 Senators who signed a letter asking for the Judiciary Committee's bill to be given preference over the Intelligence Committee's bill.