Support the FISA Filibuster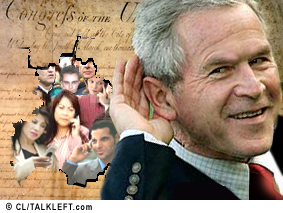 Senator Chris Dodd is going forward with
plans for a filibuster
Monday when the bad
FISA
revision bill comes up for debate.
Bottom line: The Senate must reject the Senate Intelligence Committee bill's with provisions for telecom immunity. It must insist that any bill passed carries protections for Americans against wiretapping that comport with the Fourth Amendment.
The ACLU says:
This week the Senate will consider making vast changes to the Foreign Intelligence Surveillance Act (FISA) and will determine whether telecommunications companies should be held liable for their role in President Bush's warrantless wiretapping program.

...."When the FISA Amendments Act of 2007 comes to the Senate floor this week, Congress has a duty and an opportunity to protect the Fourth Amendment and rein in the executive's spying power.
More...