Duke Players File Civil Suit Against Nifong and Durham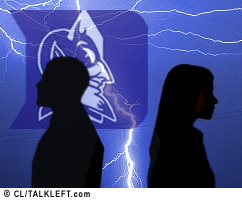 The three much maligned and wrongfully charged Duke lacrosse players filed their civil suit against ex-DA Mike Nifong and the City of Durham today.
The three former Duke lacrosse players wrongly accused of rape filed a sweeping civil rights lawsuit today against the city of Durham, a host of police officers, former District Attorney Mike Nifong, and the DNA laboratory hired by the disbarred former prosecutor.

The 162-page lawsuit called the case "one of the most chilling episodes of premeditated police, prosecutorial, and scientific misconduct in modern American history, which resulted in charges brought and maintained against three innocent Duke University students and lacrosse players over a period of more than one year. "
Here's what the players want. The copy of the complaint is here (pdf).
The Defendants: