Tom Tancredo Retiring From Congress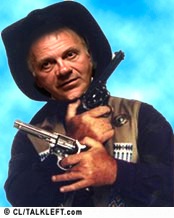 I've been waiting to write about Colorado Congressman Tom Tancredo's retirement announcement until my post went up at 5280. It's there now, as is Jason Bane's about who may succeed him.
My take (and yes, it's a pretty gracious one for me, considering how off-the-wall I think he is on immigration):
It sounds like he's tired and needs to regroup and refocus. It's understandable. He's been running on a shoe-string budget. He doesn't fly on chartered jets and he doesn't stay in luxury hotels like his competitor, Rudy Giuliani.

I may not agree with his politics but it's hard not to credit the passion and stamina he's shown to date. All in all, I think he's made a wise decision for him and for Colorado.
I'm actually kind of sad we won't have him to kick around any more.