Bush, Iran and World War III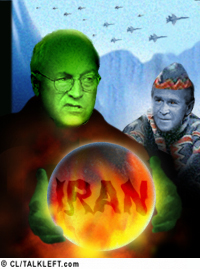 I see while I was out today President Bush made the statement:
If Iran had a nuclear weapon, it'd be a dangerous threat to world peace," Bush said. "So I told people that if you're interested in avoiding World War III, it seems like you ought to be interested" in ensuring Iran not gain the capacity to develop such weapons. "I take the threat of Iran with a nuclear weapon very seriously," he said.
In the mail today, I received an unsolicited advance copy of the book released Tuesday, Deception: Pakistan, the United States and the Secret Trade in Nuclear Weapons by Adrian Levy and Catherine Scott-Clark.
From the inside jacket: