Va. Man Seeks Stay of Execution Set for Tonight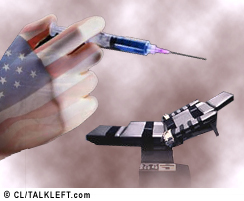 Update: The Supreme Court halted the execution.
*****
Christopher Scott Emmett is scheduled for execution in Virginia tonight. His lawyers are seeking a last minute stay from the Supreme Court based upon the lethal injection procedure. The state is resisting.
This would be Emmett's second stay. The first was granted two hours before his scheduled execution in June.
Monday night, a Nevada execution was halted. In that case the inmate wanted to die.
More...