Rudy's Troubles Go Far Past the Missing Memo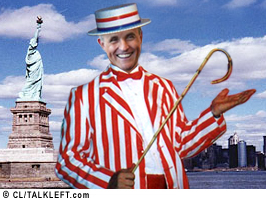 Whether the Rudy Giuliani campaign memo was misplaced or purloined, that's not the point. Nor is the point the content of the memo. Newsweek explains.
The real problem for Giuliani isn't the missing binder itself, it's that it went missing in the first place. Giuliani's candidacy, after all, will be centered around his expertise in security, order and efficiency.

"It's hard to say you're staying up all hours thinking about every unplugged hole in the homeland-security infrastructure when you can't even keep track of your own documents," said one Republican strategist who asked not to be identified because he has yet to affiliate with a presidential candidate.
There's an even deeper problem developing surrounding Giuliani, one concerning his arrogance.