36 Jurors Now Qualified in Libby Trial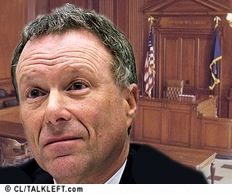 Empty Wheel, Pachacutec and Christy of Firedoglake have been doing a great job of live-blogging this morning's jury selection in the Scooter Libby trial.
The magic number of needed jurors is 36, so that the Government can have 8 peremptory challenges and the defense 12. This will leave 16 jurors, 12 regulars and 4 alternates.
The jury pool has been directed to return at 3:00 pm. At that time, each side will exercise their peremptory challenges. Since no reasons for the strikes need be given, it will take each side just a few moments to regroup after hearing the other side's challenge and the whole process should take well under an hour. Then we will have a jury. Opening arguments begin tomorrow. My thoughts on openings in the case are here.
More below the fold: