Duke Lacrosse Prosecutor Steps Down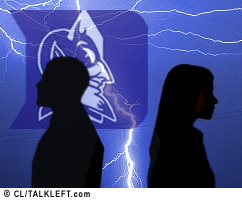 Update: The State Attorney General, Roy Cooper, announced Saturday his office will take the case from Nifong.
Mike Nifong, the prosecutor in the Duke lacrosse player's alleged sexual assault case has asked to be removed and for the appointment of a special prosecutor.
Noelle Talley, a spokeswoman for the attorney general, said Friday in an e-mail that District Attorney Mike Nifong sent a letter requesting the special prosecutor.
As to what this means for the case, I'd say delay, a long one.
A hearing on the defense motion to suppress the accuser's identification of the players is scheduled for February 5. The state attorney general must now appoint a special prosecutor who will need a substantial amount of time to familiarize himself or herself with the case.