Duke Lacrosse Case Update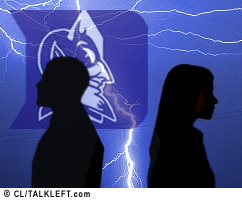 There's lots of news in the Duke lacrosse player's alleged sexual assault case, which continues to crumble at an astonishing rate.
The accuser told yet another version on Dec. 21. The statement was turned over to the Defense on Jan. 4. In it, she says Reade Seligman was not one of those who sexually assaulted her. DA Mike Nifong knew this before he dropped the rape charges, yet didn't drop charges against Seligman. And that's just the beginning of the new inconsistencies. You can read the original suppression motion here and yesterday's supplement here.