Libby Trial Decorum Order Issued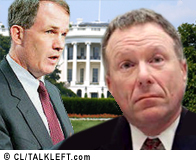 Judge Reggie Walton has issued the following trial decorum order (pdf) for the Scooter Libby trial. There will be two overflow courtrooms.
Also, from another order granting the following persons 24 hour access to the courthouse during the trial, here's a clue as to who's on the Government's trial team (some could be agents and paralegals in addition to lawyers.).
ORDER as to I. LEWIS LIBBY granting the following individuals access to the E. Barrett Prettyman Courthouse 24 hours a day/7 days per week from the date of the Order until the conclusion of the trial of this matter: Patrick Fitzgerald, Peter Zeidenberg, Kathleen Kedian, Debra Bonamici, Debbie Bond, Gerard Francisco, Jared Richards, Katie Hance, Bonnie Hansen, and Harry Brady.