10 U.S. Soldiers Killed Today in Iraq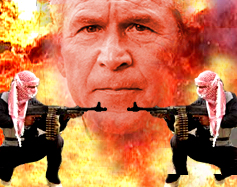 The bad news from Iraq keeps coming:
Ten American service members were killed from improvised explosive devices in Iraq on Wednesday. The news came hours after a mortar attack killed at least eight people and wounded dozens in the Sadr City Shiite district of the capital, police said.

In the 10 American deaths, five troops were killed in the north, and five were killed in Anbar province, a U.S. military official told NBC's Jim Miklaszewski. No further details were immediately available.