Haditha Killings: 5 Marines to Be Charged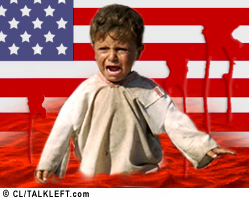 At least five Marines are going to be charged with crimes ranging from negligent homicide to murder in the November, 2005 killings of 24 Iraqis in Haditha.
The 5 marines are said to have been the ones who killed the 24 Iraqis, including 5 men in a taxi that approached the marines' convoy after the explosion that killed a 20-year-old lance corporal, and 19 other civilians in several houses nearby. About 10 of the dead were women and children who appeared to have been killed by rifle fire at close range, military officials said.
According to the Marine official and the defense lawyer representing one of the marines under investigation, criminal charges will be filed against Staff Sgt. Frank D. Wuterich, 26, of Meriden, Conn., the squad's leader; Lance Cpl. Stephen Tatum, 25, of Edmund, Okla.; Lance Cpl. Justin Sharratt, 21, of Carbondale, Penn.; Cpl. Sanick Dela Cruz, 24, of Chicago; and Cpl. Hector Salinas, 22, of Houston.
Stephen Tatum is represented by Houston's Jack Zimmerman, a stellar military law expert and criminal defense lawyer.
Jack Zimmermann, a lawyer for Lance Corporal Tatum, said his client had responded appropriately to a lethal attack in a dangerous region of Iraq. "There was no crime committed," Mr. Zimmermann said.