WAPO on Prosecutiorial Indiscretion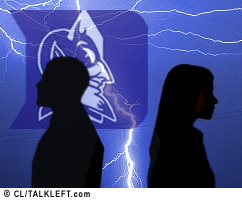 A Washington Post editorial today calls for an end to the prosecution of the Duke Lacrosse players.
It recalls the words of U.S. Attorney General Robert Jackson in 1940:
"THE PROSECUTOR has more control over life, liberty and reputation than any other person in America. His discretion is tremendous. He can have citizens investigated, and, if he is that kind of person, he can have this done to the tune of public statements and veiled or unveiled intimations."

....The prosecutor, as Robert Jackson said so many years ago, "can have no better asset than to have his profession recognize that his attitude toward those who feel his power has been dispassionate, reasonable and just."