Libby to Call Cheney as a Defense Witness at Trial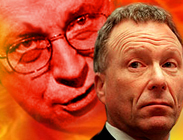 It's official. Team Libby told the Judge presiding over his trial today he absolutely will call Veep Dick Cheney as a trial witness.
More information is available here, as well as last week's filings.
Update: Empty Wheel and Christy at Firedoglake share their thoughts.
Update: I'd love to see Fitz impeach Cheney at trial using Cheney's statements made in 2004 to federal investigators.