Immigration Raids: HSA Run Amok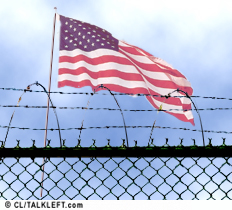 I have an op-ed today on Tuesday's immigration raids in the Washington Examiner.
I cannot accept a government that rounds people up on buses and takes them to undisclosed locations. Who is a winner here? With the exception of companies like Halliburton with federal contracts to build detention centers, I can't think of any.
Update: Pachacutec at Firedoglake writes more about what will happen to the children of those arrested.
Update: the oped is currently #38 of 14,864 articles. I hope you all read it so it gets bumped into the top ten. The Examiner is viewed as a conservative paper, so this is a chance to speak to those not in the choir.