New Scooter Libby Filings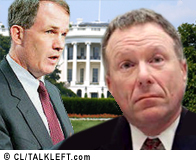 There's been a flurry of filings in the Scooter Libby case. Shorter version: Both Fitz and Libby want to keep information about l'affaire du Plame from the jury. Courtesy of Next Hurrah:
Libby doesn't want it to be inferred that his talks with Judith Miller about the NIE were improper. He doesn't want it inferred that he thought he could lie because he believed reporters would refuse to testify. He doesn't think Valerie Plame's covert or non-covert employment status, or any damages she may have sustained, are relevant to the trial.
Fitz' filing is here (pdf.) Fitz doesn't want the jury to hear: