Hastert Didn't Tell Page Board Members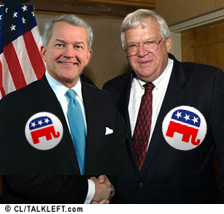 More doo-doo for Hastert:
Rep. Shelley Moore Capito, R-W.Va., says she was not told about suggestive e-mails that a Florida congressman sent to a 16-year-old former Capitol page, even though she is one of three representatives who oversee the page program....

Several high-ranking House Republicans have known about the e-mails for months, including Rep. John Shimkus, R-Ill., chairman of the House Page Board.

Late last year, Shimkus met with Foley about the e-mails. But Shimkus never told Capito or the board's other member, Rep. Dale Kildee, D-Mich., about them until Friday, according to all three.

"There's only three of us on the page board. I feel that we should have been informed," Capito said. "I'm absolutely disgusted by what I'm hearing. I was caught totally unaware."