Libby to Testify at His Criminal Trial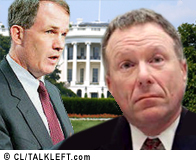 Following the Judges ruling on classified information Thursday in I. Lewis "Scooter" Libby's criminal case, on Friday his lawyers filed a pleading entitled PRETRIAL MEMORANDUM Concerning Admissibility of Documents on Consolidated CIPA Section 5 Notice (pdf). In it, Team Libby says:
Libby will testify in his defense at his trial
Libby will introduce a powerpoint presentation at his trial
Libby will seek to introduce his notes made during pertinent times
Libby will seek to introduce classified documents, including documents pertaining to Joseph Wilson's trip to Niger, which he asserts fall under four exceptions to the hearsay rule.
The AP reports on Libby's motion here.
It's probably no surprise that Libby will testify, but just a few weeks ago, when Fitz filed his opposition to Libby's motion to introduce a memory expert at trial (pdf version here), Fitz wrote (page 17, footnote 11):
Notably, defendant has not committed to testifying on his own behalf, and declines to identify which events or conversations he will claim he got right and which he innocently got wrong.