Katrina Anniversary: Spike Lee Film and Water the Bushes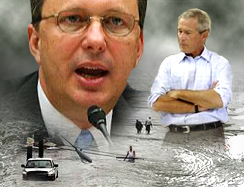 Spike Lee's four hour film on Hurricane Katrina and the government's woefully inadequate response airs Monday and Tuesday nights on HBO:
One of the most poignant interviews in the Hurricane Katrina documentary "When the Levees Broke" is given by a man who lost his mother in the aftermath of the storm, filmmaker Spike Lee said Sunday. In the interview, Herbert Freeman recalls his mother's death at New Orleans Convention Center and the moment he had to leave her body there as he and other evacuees were taken out of the city.

"Before he got on a bus _ he had a piece of paper, wrote his name, his cell number and her name and placed the paper between her fingers, her body," Lee said on ABC's "This Week."
Just unbelievable. Here's a little action alert that should be easy to do.