Libby Files Support of Request to Use Memory Expert at Trial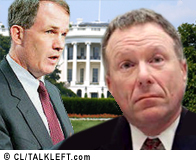 A few weeks ago Lewis "Scooter" Libby notified the court it would seek to introduce the testimony of a memory expert at trial. In March, Harvard psychology professor Daniel L. Schacter told NBC News he was Libby's expert, which a member of Team Libby confirmed.
Yesterday, Libby filed his "Rule 702" advisement of the proposed expert's testimony and the bases and reasons for it. The expert is not Dr. Schacter but Robert Bjork from UCLA. The New York Sun has more.