"Operation Swift" Was No Secret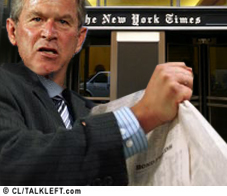 Let's try this again. As New York Times editor Bill Keller said on Face the Nation yesterday, and the Boston Globe reported last week, Operation Swift and the Administration's war on terror financing was no secret. From the Globe:
Victor D. Comras , a former US diplomat who oversaw efforts at the United Nations to improve international measures to combat terror financing, said it was common knowledge that worldwide financial transactions were being closely monitored for links to terrorists. ``A lot of people were aware that this was going on," said Comras, one of a half-dozen financial experts UN Secretary General Kofi Annan recruited for the task.....

Indeed, a report that Comras co-authored in 2002 for the UN Security Council specifically mentioned SWIFT as a source of financial information that the United States had tapped into. The system, which handles trillions of dollars in worldwide transactions each day, serves as a main hub for banks and other financial institutions that move money around the world. According to The New York Times, SWIFT executives agreed to give the Treasury Department and the CIA broad access to its database.
Here is the U.N. report. Check out Paragraph 31: [Add: Link may not be operational this morning, it was fine last night.]