Duke Lacrosse: DA Nifong's Rape Exam Statements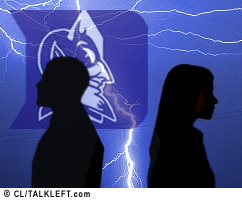 The defense filed another challenge to DA Mike Nifong Thursday. Remember when he told America on national tv that his reading of the accuser's rmedical eport indicated a rape had taken place? Turns out, the report hadn't been printed as of that date.
"On March 29, 2006, Mr. Nifong claimed to have read a medical report that, according to discovery, was not printed until March 30, 2006, or retrieved by law enforcement pursuant to Mr. Nifong's own subpoena until April 5, 2006," read the filing from lawyers Joseph Cheshire and Bradley Bannon.

As to the accuser's injurie that might be consistent with a sexual assault, what injuries?
According to the defense, the only injuries noted by the doctor who performed the 33exam were "three small scratches" on her right knee and ankle.